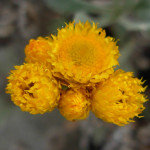 Beyond Bolac has been supporting the efforts of the Eel Festival Committee to educate the local community on the value of our native grassland vegetation.On the volcanic plains there is less than 1% of the native grassland vegetation remaining. Most of that is on the roadsides, with very little in paddocks.The lake-side plantation was planned to make an amenity area of a space that was difficult to maintain (very steep for mowing). Its in a public area, so likely to expose the public to the diversity and attractiveness of the local vegetation. It has also been an effective trial on how to establish a diverse grassland from first principals, since there were no native species to start with.Similarly there has been the establishment of a 'seed orchard' of local provenance at the East Beach, with good survivorship of the first planting. This consists of local shrubby species that have all but disappeared from the local area.The aims of these plantations are to:
1) educate the local community about the aesthetic value of native vegetation
2) encourage local people to undertake similar plantings
The planting was done by Eel Festival goers and students from Lake Bolac College in 2011 and 2102.
The grassland planting at the edge of the lake contains a number of local wildflowers:
Pink Bindweed: Convolvulus erubescens
Yam daisy: Microseris lanceolata
Running postman: Kennedia prostrata
Austral Bluebells: Whallenbergia spp.
Common Everlasting: Chrysocephala apiculatum
Bulbine Lilies: Bulbine bulbosa
Chocolate Lilies: Arthropodium strictum